On a cold, rainy New Year's Day in Maine, Ben and Jocelyn said, "I do."
It was a day full of love, emotion, and special moments that the couple will never forget.
From their first look photos to their exchange of vows at the alter with his two sons standing by, to taking wedding portraits in downtown Kennebunkport and celebrating at a cozy reception – every moment was filled with joy. This beautiful winter wedding in Maine was one for the books!
Introducing the Breakwater Inn and Spa Wedding – New Year's Day
The Breakwater Inn and Spa in Kennebunkport, Maine, is the perfect wedding venue for couples looking to have a unique, memorable celebration.
Nestled on the picturesque coast of Southern Maine, this luxurious inn provides breathtaking views of the ocean and an unforgettable setting for any special occasion.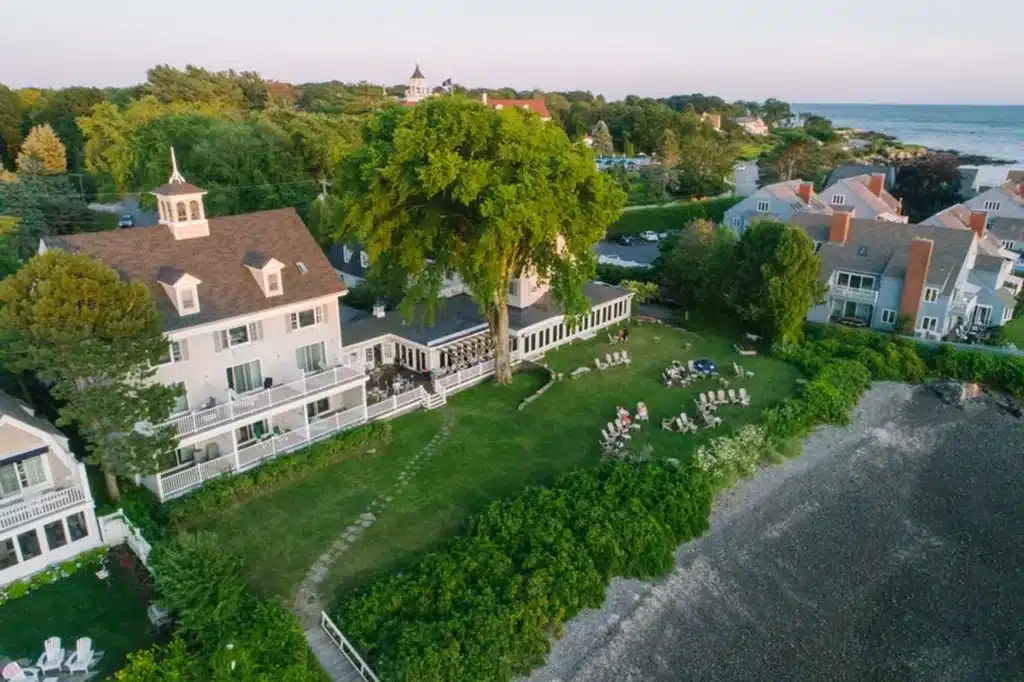 With its private beach access and beautiful grounds, it's no wonder that Ben and Jocelyn chose this stunning location for their New Year's Day wedding.
Take it from me, an experienced Kennebunkport Wedding Photographer; whether you're looking for a romantic ceremony or an intimate gathering with family and friends, the Breakwater Inn has everything you need to make your big day one to remember!
Getting Ready With the Bride and Groom
The groom, Ben, was getting ready, surrounded by his two sons and closest friends. He took the time to savor the moment, knowing this would be one of the most important days of his life. He donned a classic black tuxedo and polished shoes, accessorized with a boutonniere that matched Jocelyn's bouquet.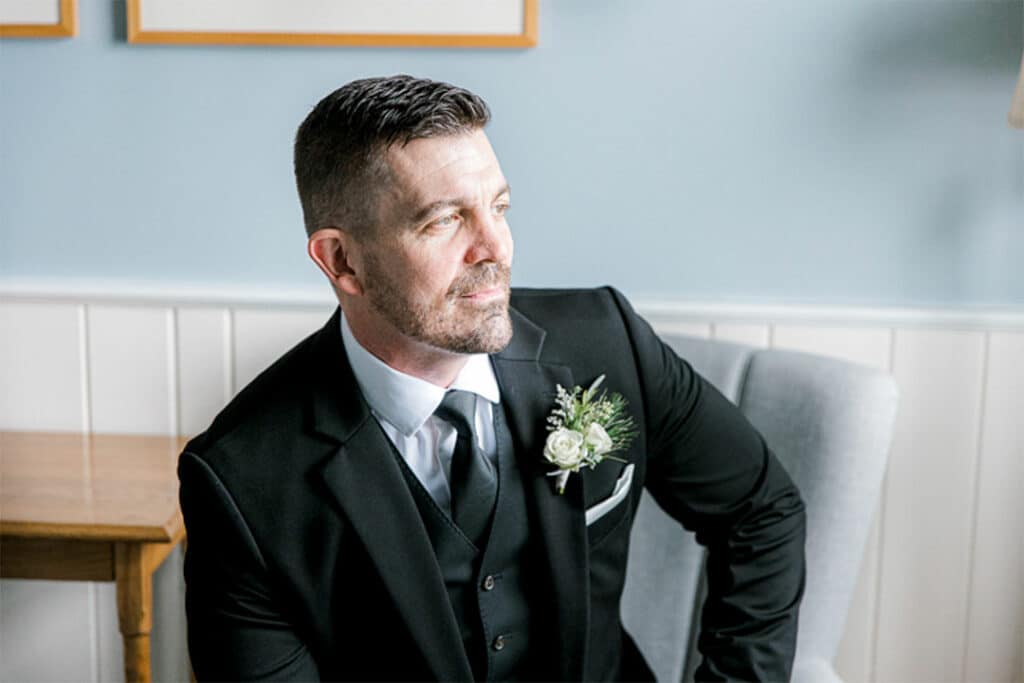 Meanwhile, Jocelyn was getting ready in her luxurious bridal suite at the Breakwater Inn & Spa. As she donned her custom-made white gown, she felt a wave of emotion wash over her as she thought about how far she and Ben had come to get to this point.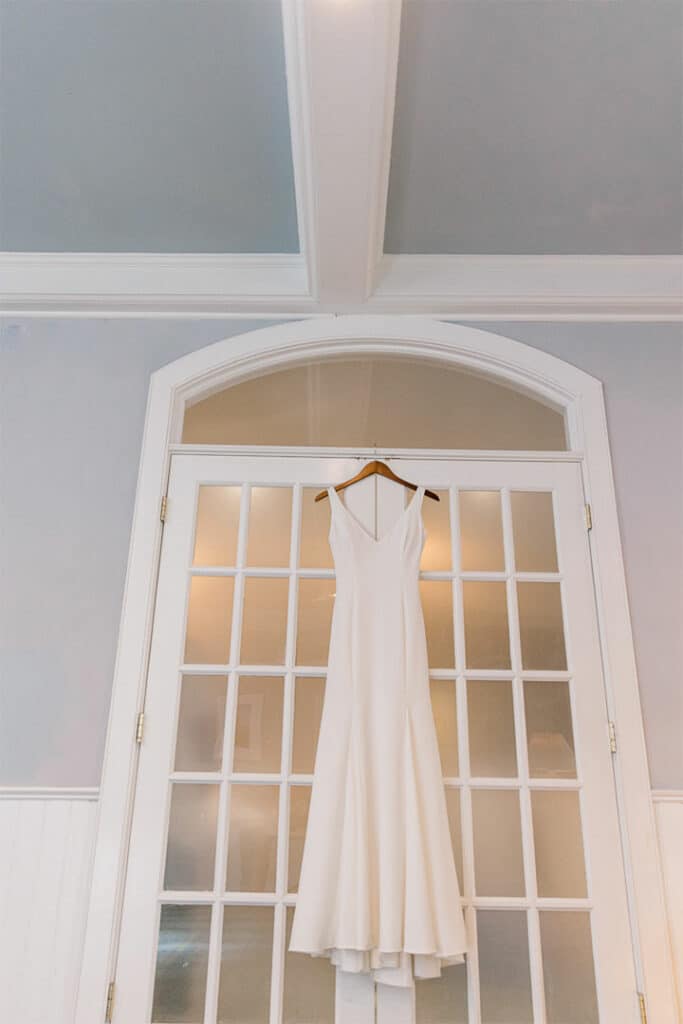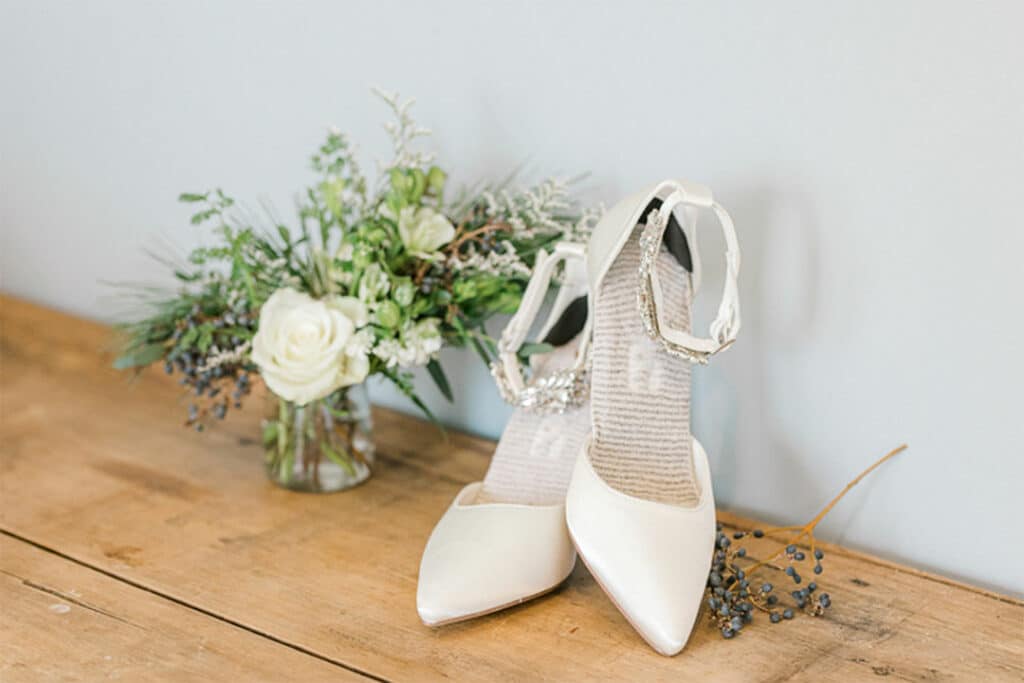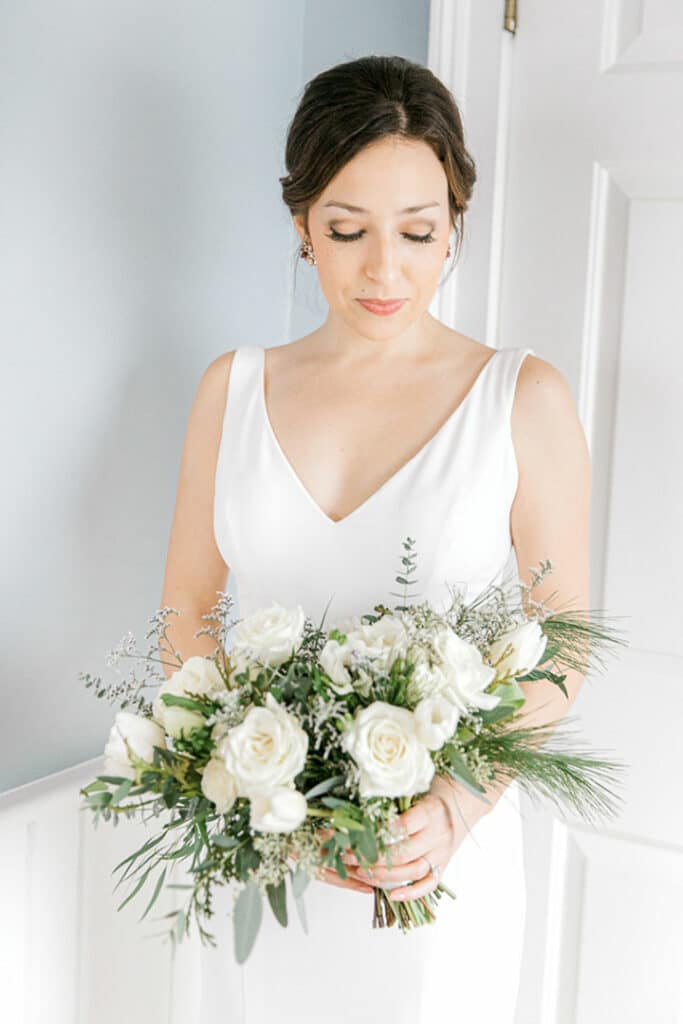 Her hair was done up in an elegant updo, and her jewelry was sparkling as she finished putting on her overcoat – ready for when Ben would see her for the first time as his wife.
Capturing Pre-Ceremony Moments with the Groom and His Son
As Ben and his two sons finished getting ready for the special day, he knelt down to eye-level with his eldest son, straightening his tie into a perfect knot. He looked him in the eyes and spoke words of wisdom and assurance, telling him fond memories they had shared together and reminding him that no matter what happened, he would always be his father.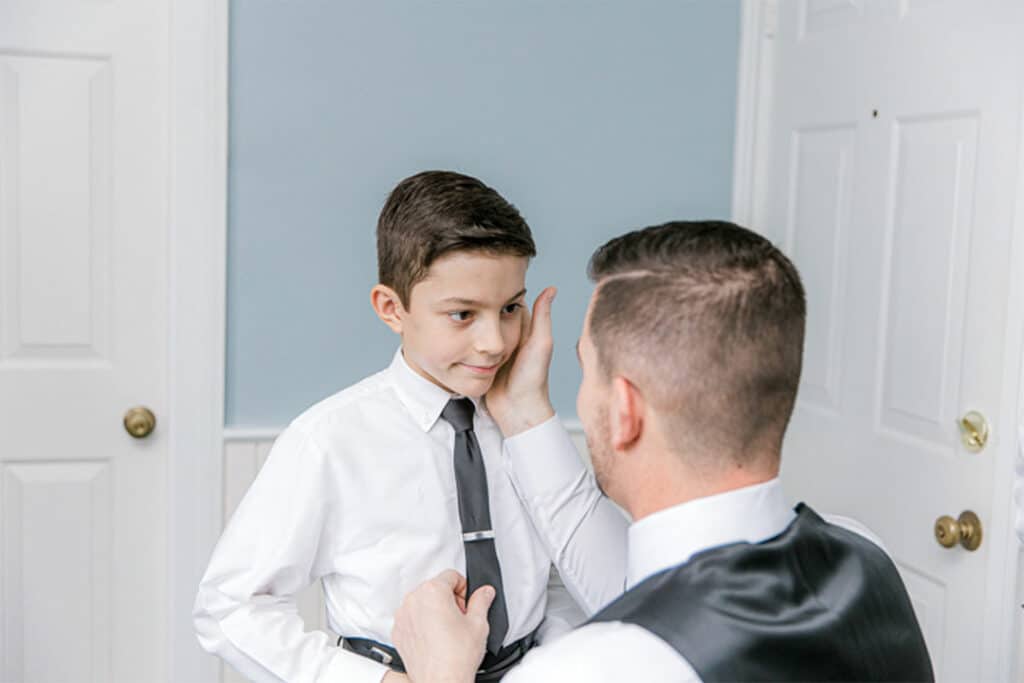 The First Look Photos Outside in the Cold Rainy Weather
As Jocelyn walked down the Breakwater Inn & Spa stairs, she felt a sense of anticipation and excitement. She was ready to meet Ben for their first look photos.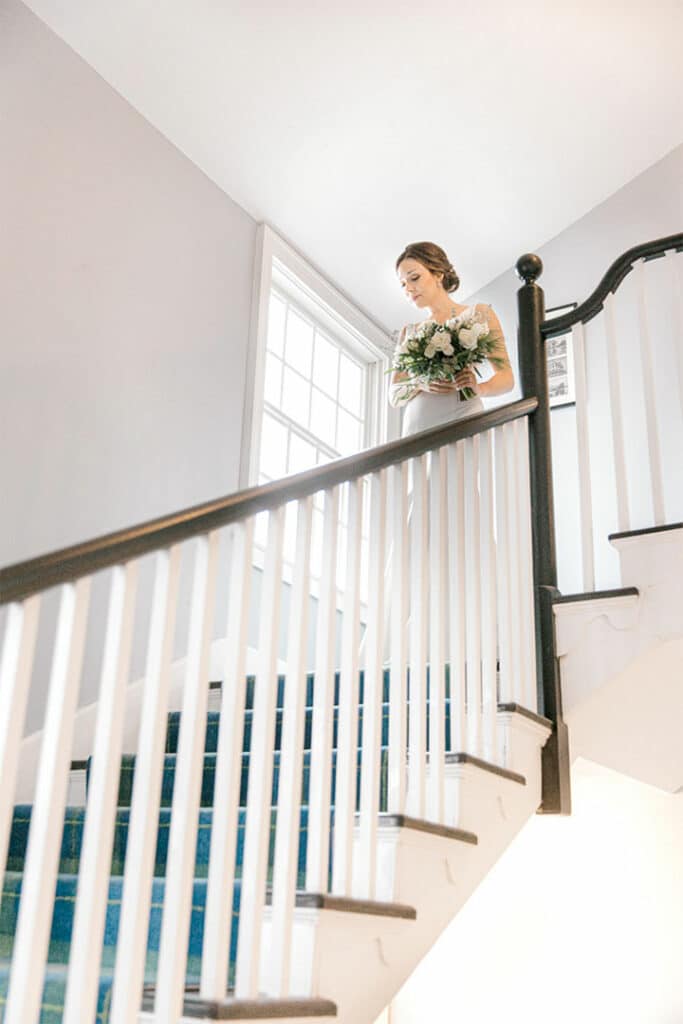 When she finally got outside, she tapped Ben on the shoulder. He then turned around and saw his beautiful bride-to-be for the first time. He couldn't help but be in awe of her beauty, even though it was chilly and rainy outside.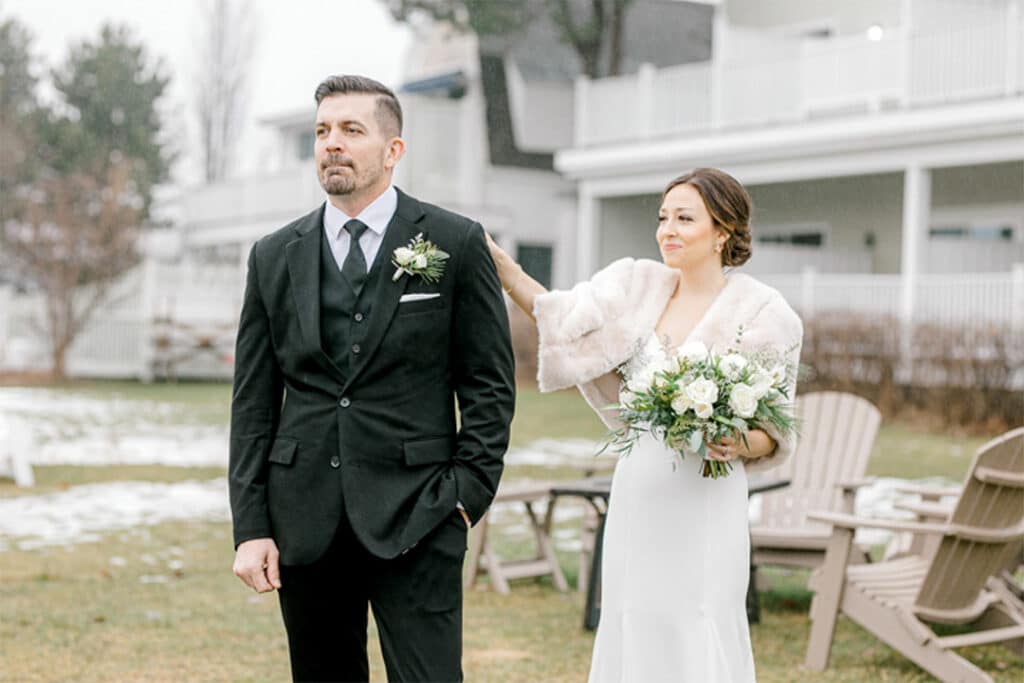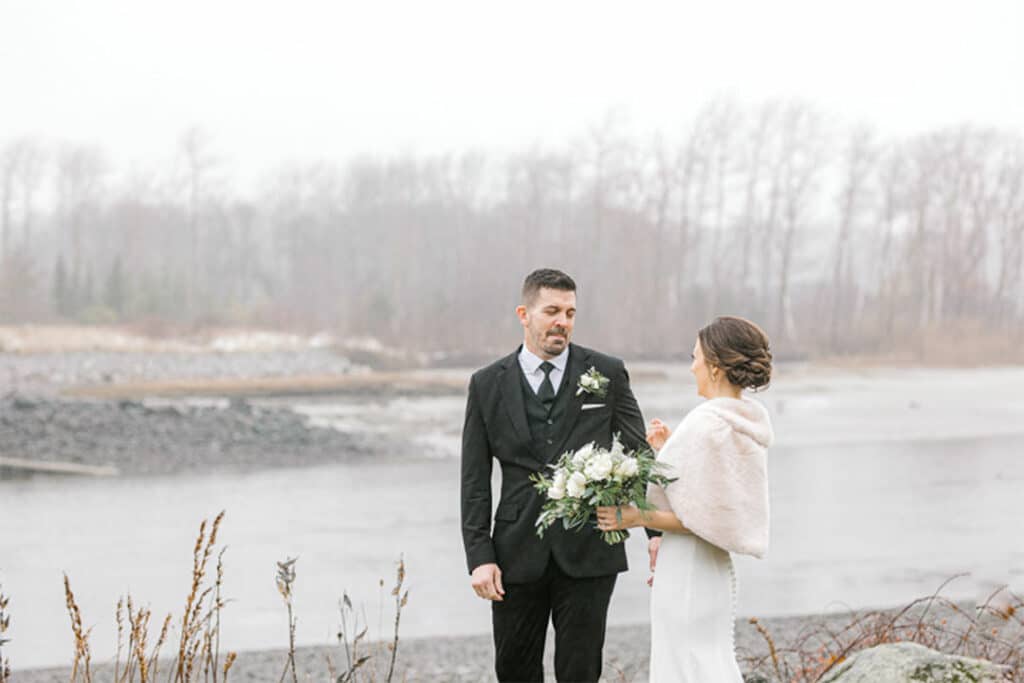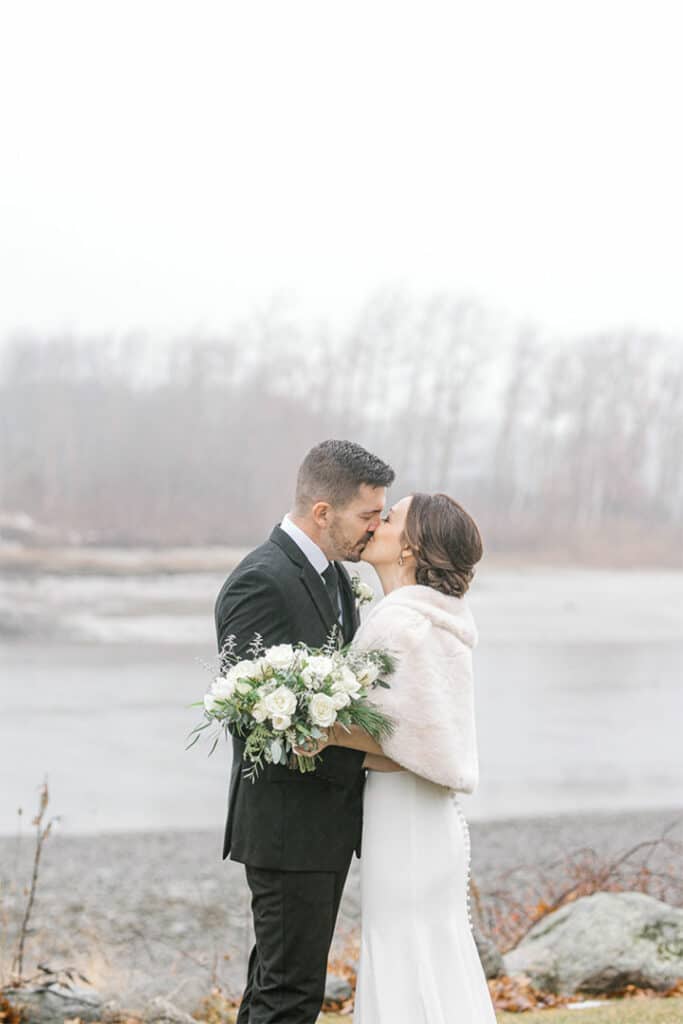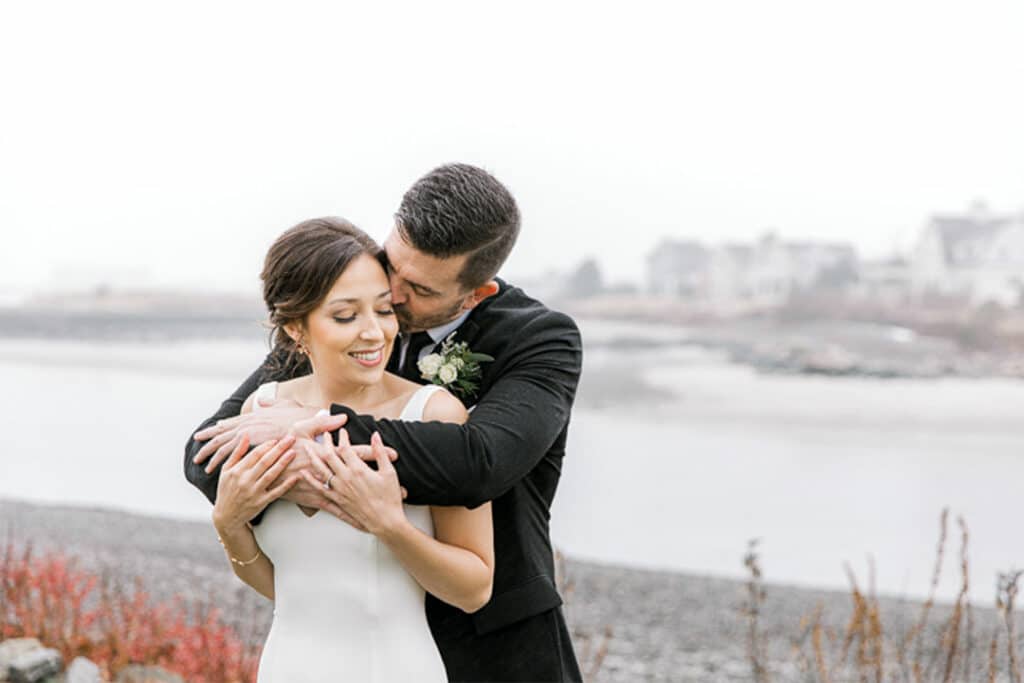 The photos taken during this moment were truly magical; Ben and Jocelyn's love for each other shone through even in the cold, rainy weather. It was the perfect way to start their wedding day!
Exchange of Vows at the Alter with His Two Sons Standing By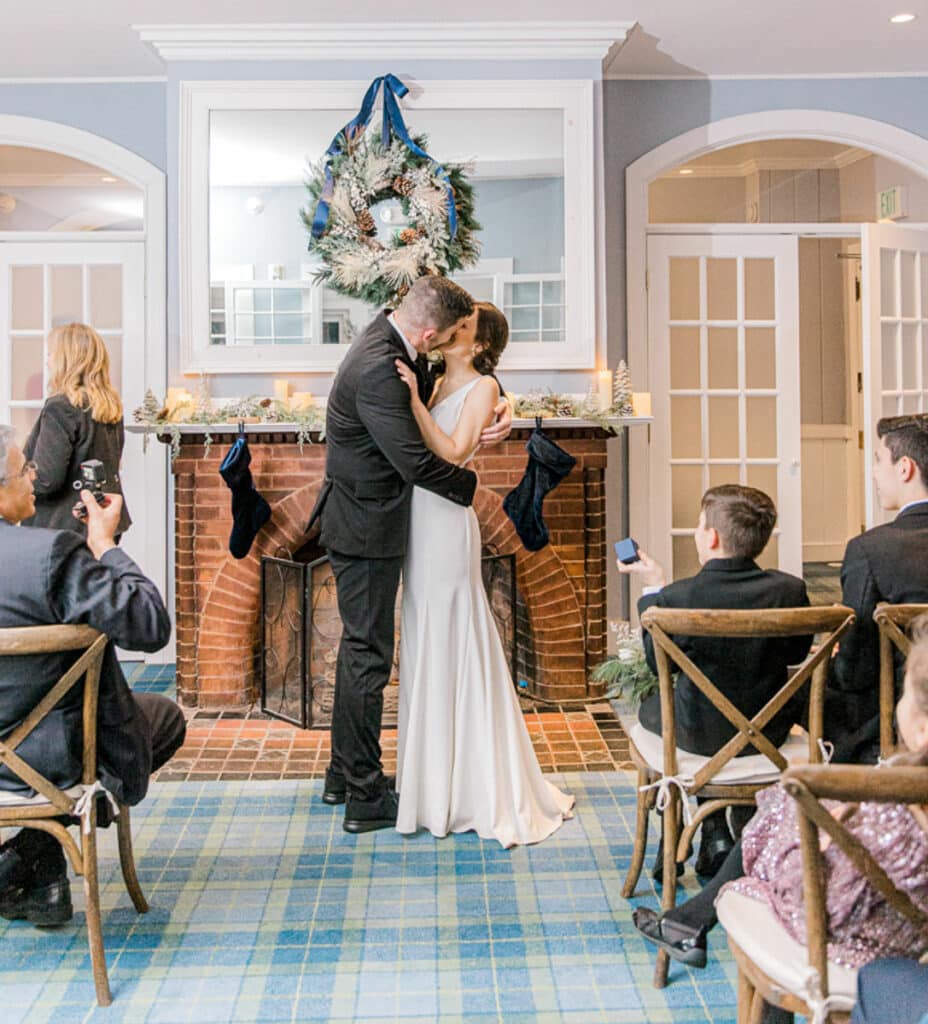 As they exchanged their vows, Ben's two sons proudly stood by his side, watching their parents exchange rings and take their first kiss as husband and wife. It was truly a special moment for everyone involved, one that would not soon be forgotten.
Wedding Photography Session in Downtown Kennebunkport, Maine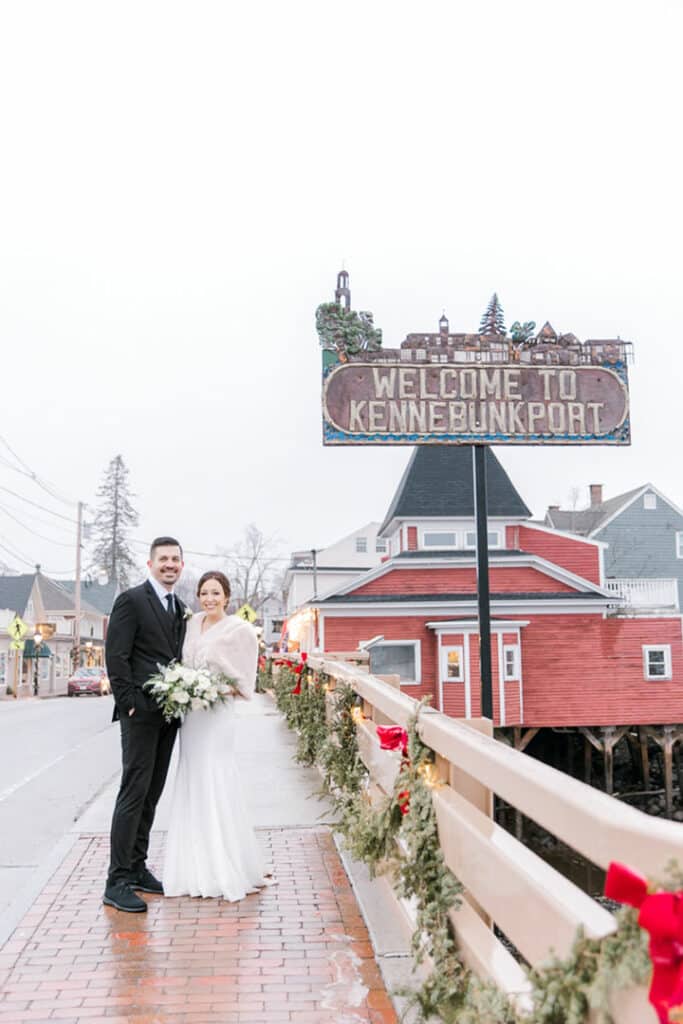 After the ceremony, Ben and Jocelyn visited downtown for some wedding portraits. They drove into the heart of Kennebunkport and took photos by the giant Christmas tree and under the light-covered bridge.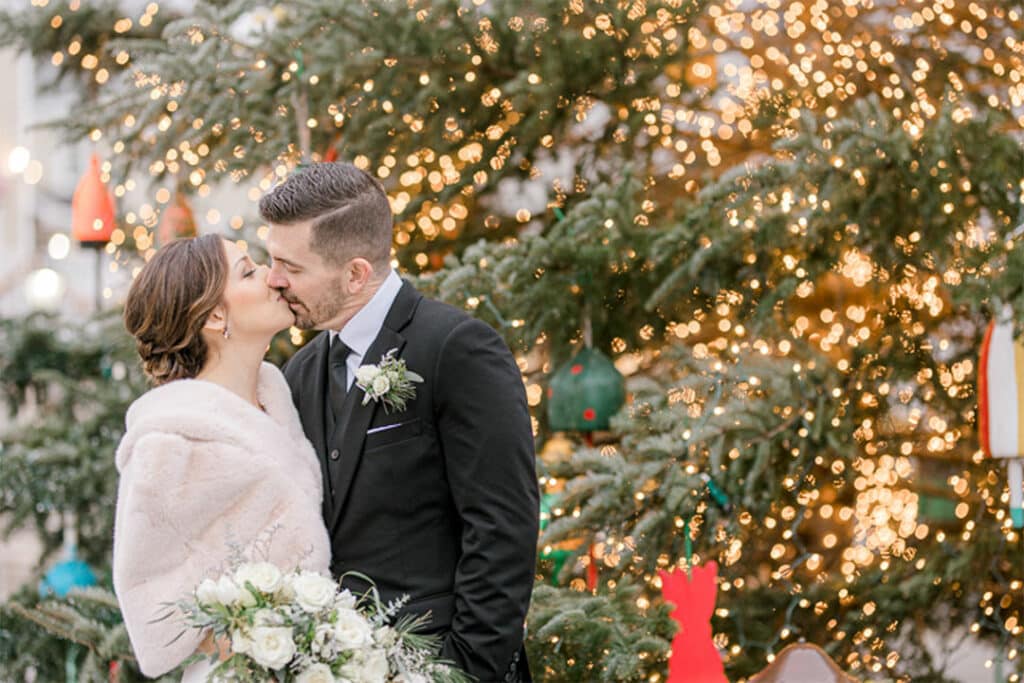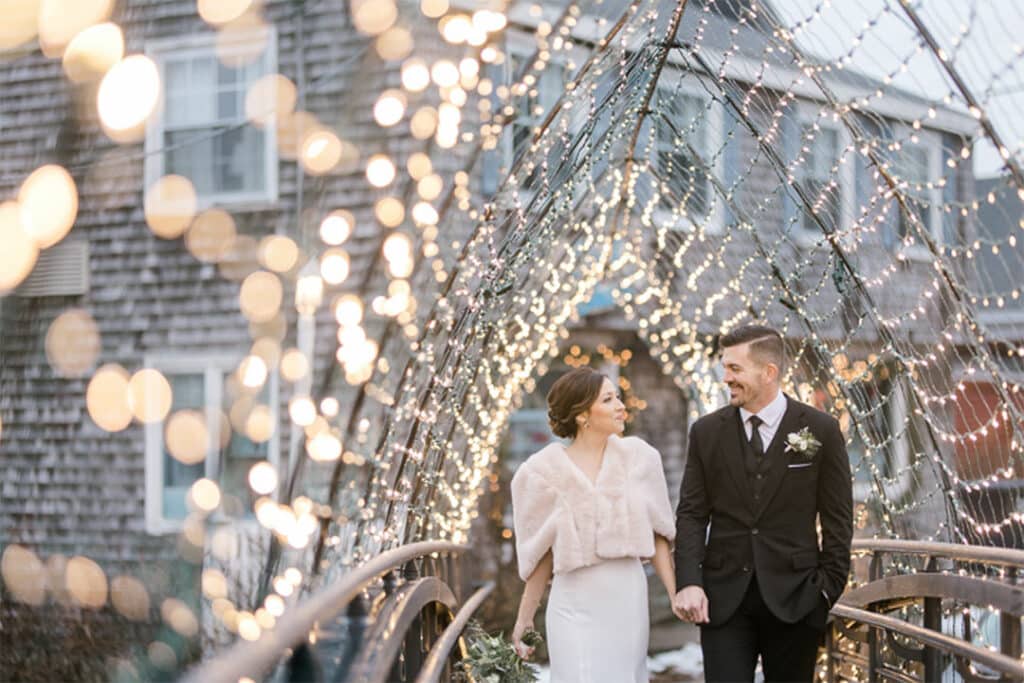 The two were absolutely glowing in their photos; they laughed, embraced, and kissed as they explored the beautiful scenery of Maine.
Celebrating at a Cozy Reception at Breakwater Inn and Spa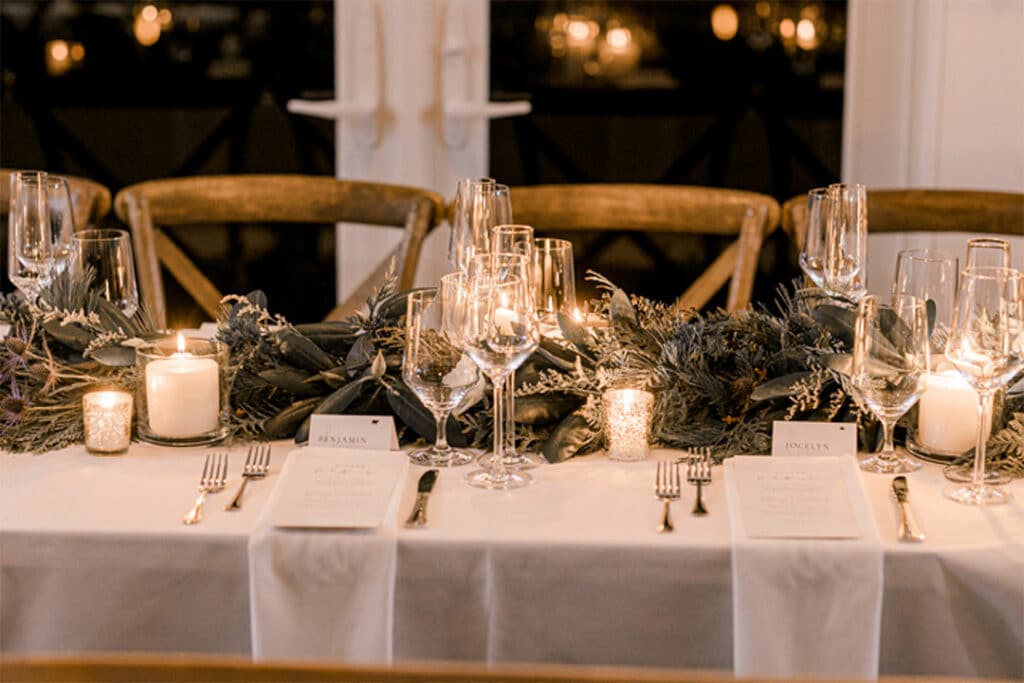 The newlyweds celebrated the night away with their friends and family at the Breakwater Inn & Spa. The reception was cozy and romantic, accented by twinkling lights and candles. As everyone enjoyed drinks, delicious food, and music, Ben and Jocelyn shared special moments throughout the evening.
Dancing Into Their New Life Together
At the night's end, Ben and Jocelyn shared their first dance as husband and wife. As they swayed to the music and gazed into each other's eyes, it was clear that this was only the beginning of a beautiful new chapter in their lives.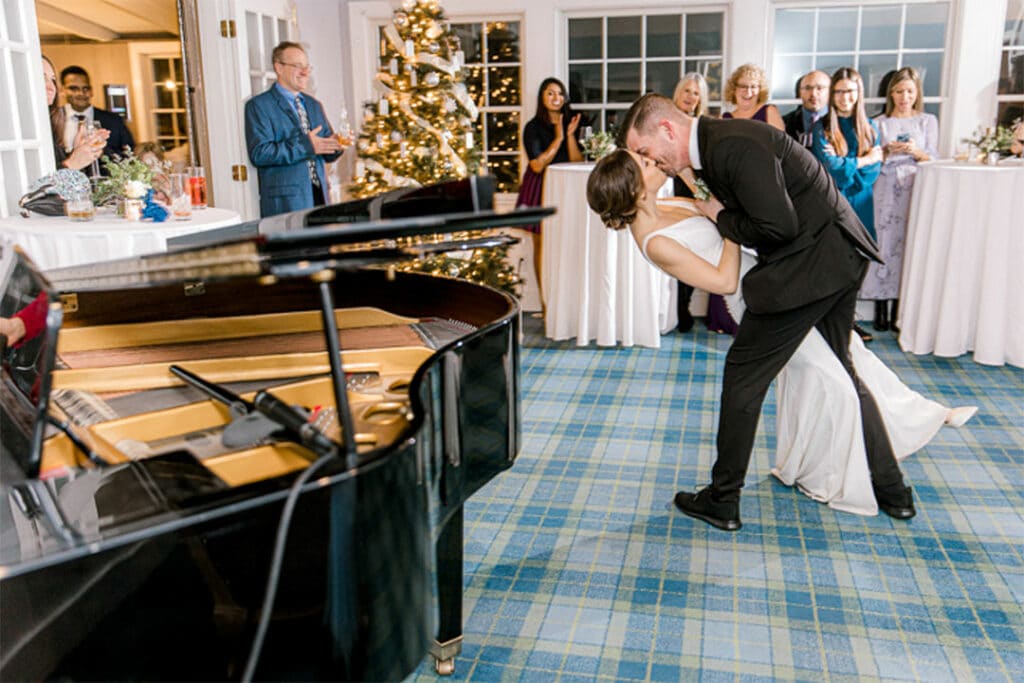 Their unforgettable New Year's Day wedding at Breakwater Inn & Spa was the perfect start to a lifetime of love and happiness.
Are you looking for a Maine wedding photographer to capture the moments of your special day? Contact me today! With years of experience and talent, I promise to capture breathtaking photos that will last a lifetime.