seatedMaine Barn Weddings are the perfect way to celebrate your wedding day. Barn wedding venues in Maine offer an intimate, rustic setting that is perfect for any bride and groom.
If you're looking for a place with beautiful scenery and country charm, this list of 11 barns for weddings in Maine will have just what you need!
Barn weddings are some of my favorites to photograph. The main reason is because of the rustic and charming atmosphere they provide.
They are perfect for farm weddings, country weddings, or even fall-themed weddings!
If you are unsure about what wedding venues usually cost, check out my guide where I list average costs for Maine wedding vendors.
Now let's get into some of these barn wedding venues in Maine.
11 Best Maine Barn Wedding Venues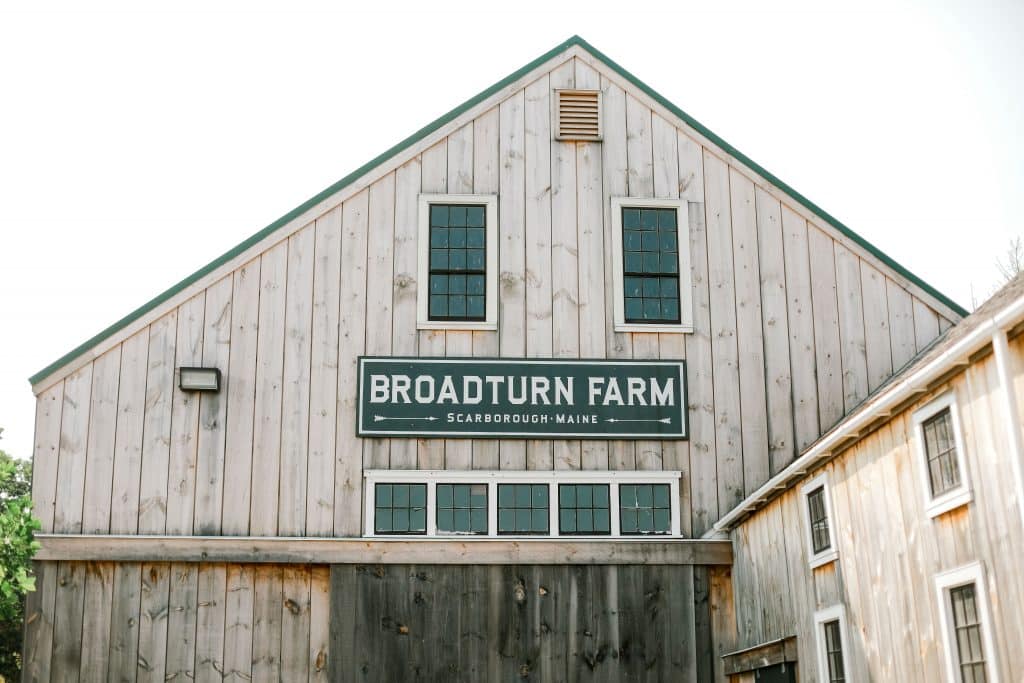 1.) Broadturn Farm — Scarborough, ME
Broadturn Farm is a wedding barn in Scarborough, Maine. As a Scarborough, Maine, wedding photographer, I just love when my clients choose this venue!
The property includes over 400 acres of scenic rolling hills, woodlands, and open fields with plenty to offer for your big day. From outdoor lawns to indoor spaces.
The wedding barn is a restored, converted 1800's barn that can accommodate up to 125 guests seated for your wedding ceremony and 75 maximum guests for dinner. 
The property includes a rustic cabin, which serves as dressing rooms, and a quaint staging area for some fun photo opportunities! Also included in the new Silver Barn are updated restrooms. 
Broadturn Farm is a fantastic option for a rustic barn wedding venue in Maine.
The reception area is relaxed and casual, perfect for a Maine barn wedding.
There is also an outdoor ceremony and reception space with beautiful views of the surrounding countryside if you prefer to use a Maine wedding tent rental. With a tent can accommodate up to 200 for dinner on the lawn.
If you're looking for a cozy barn wedding in Maine, this may be it!
See my post on this latest Broadturn Farm Wedding!
2.) The Barn On Walnut Hill — North Yarmouth, ME
The Barn On Walnut Hill is a picturesque location conveniently located in North Yarmouth, ME.
It is ideally located on 25 acres of wooded land and has the capacity to hold up to 200 guests!
One of my favorite Maine barn wedding venues and is great for medium-large weddings or receptions. This rustic wedding venue offers a main floor ceremony space with a balcony overlooking the open dance floor.
It also offers plenty of outdoor space for your guests to enjoy!
There is ample parking and many different options for catering, bars, decor, tent rentals, florists, and more. You will be easily able to work within your preferred vendor list.
This barn for weddings in Maine truly epitomizes rustic chic.
Its wide-open beams and floor-to-ceiling windows provide abundant natural light throughout the entire space.
3.) Coolidge Family Farm – New Gloucester, ME
Coolidge Family Farm is another one of my favorite barns for weddings in Maine.
It has spectacular grounds, period details, and gorgeous views.
The barn can hold up to 120 guests for your ceremony or reception, while the tent holds about 200 guests.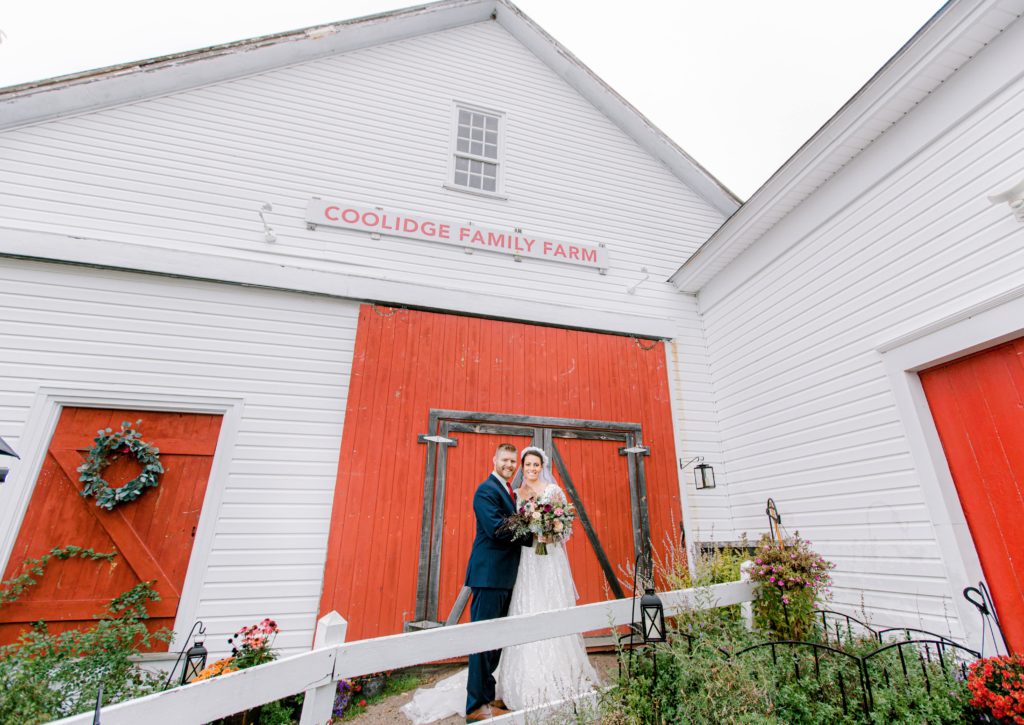 The Coolidge family offers many different options when it comes to catering, including beer & wine selections.
There are also many options for rental companies and floral designs that can make your day go smoothly.
One of the most popular Maine barn wedding venues!
I've had the opportunity to photograph many weddings here, and my favorite part is the outdoor ceremony area.
Check out this wedding at Coolidge Family Farm I had the pleasure to document!
4.) Enchanted Gables — Oakland, ME
Enchanted Gables is the perfect rustic wedding venue for your Maine barn wedding or reception.
With plenty of room for all of your guests, modern details and conveniences, and beautiful grounds to host it!
This barn wedding venue truly epitomizes rustic chic.
The Barn can easily accommodate your 300+ person guest list.
Enjoy the large patio area for cocktail hour, lawn games, food carts, and more!
The barn wedding facility has a walk-in commercial kitchen available onsite with the ability to host your caterer or bring your own food.
The barn is heated and can also be enjoyed during all four Maine seasons!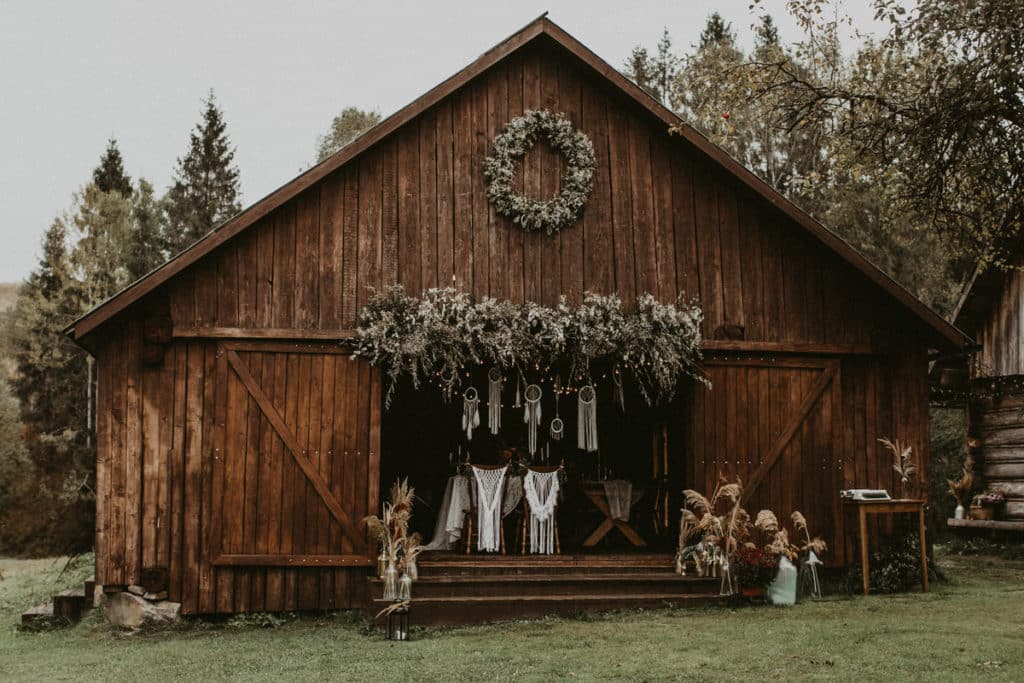 5.) Pineland Farms — New Gloucester, ME
Pineland Farms is a Maine barn wedding venue that I can get behind.
This gorgeous setting offers space for a 500+ guest list.
Pineland Farms has a main home and three guest homes for your guests to stay at.
The main barn is an 1880s farmhouse that offers both ceremony & reception space. It also boasts both indoor/outdoor areas for ceremonies or cocktail hour.
This venue also features multiple smaller spaces perfect for bridal parties to get ready before the wedding day begins!
As a Southern Maine wedding photographer, I just love capturing the mood of this venue!
This Maine barn wedding venue is located near Freeport (a short drive from Portland, which is great for me as a Portland Maine wedding Photographer) and only 20 minutes away from L.L. Bean's headquarters in Freeport. Which makes this Maine wedding venue even better!
Pineland farms will also allow you to bring your own caterer onto their property to create the menu of your dreams!
6.) Bear Mountain Inn & Wedding Barn — Waterford, ME
Bear Mountain Inn & Wedding Barn is located in Waterford, Maine, and is just the most perfect barn wedding venue.
It has a capacity for up to 300 guests and hosts both indoor weddings as well as outdoor ceremonies on site with an amazing view!
This barn wedding venue offers enough space to set up a large tent if your guest list is especially large.
The main level features large windows overlooking acres of farmland towards Mt Tire'm, which means the sunsets here are quite spectacular too!
I especially enjoy the photographs that come from this venue. Check out this Bear Mountain Inn Wedding!
7.) William Allen Farm — Pownal, ME
William Allen Farm is one of the best barn wedding venues in Maine and has a guest capacity of 200+.
The main ceremony area has high ceilings and natural light, which makes for such an elegant space on the inside to photograph your wedding party!
You could also hold cocktail hour outside on the large wrap-around porch and stone walls.
I love how this one looks during winter when the snow sets the scene!
William Allen Farm has a large event barn equipped with a bar and dance floor. Your caterer can set up their kitchen here as well. Also, Look into a wedding florist to complement this venue.
William Allen Farm also offers 30 acres of trails for your guests to walk around on, a large pond, two horses, and farm animals which make for great photo ops.
8.) The Lakeside Barn — Nobleboro, ME
The Lakeside Barn is located just outside the main part of Nobleboro, Maine.
Located inside Duckpuddle Campground on Pemaquid Pond, It's an ideal spot for couples looking to host their wedding ceremony or reception in a rustic stunning backdrop with romantic charm and simple elegance.
The venue can accommodate 200 guests and features a main barn with an attached smaller barn, both surrounded by natural beauty.
Guests can enjoy the outdoors (and even stroll down to the lake) while taking advantage of indoor options like air conditioning and heating systems.
This is especially useful on warm summer days or chilly winter nights! Even better, this venue is located on the same grounds as a wonderful campground, so your guests who enjoy camping will be pleased!
The main barn at The Lakeside Barn measures 20,000 square feet. It's a large space that can be divided into four smaller rooms with six entrances for your convenience and flexibility and separate entrance/exit points from the main road.
Inside features include barn doors on both ends of each room and exposed posts and beams, so those important wedding detail photos will not be left out. This Maine barn wedding venue should be a large consideration.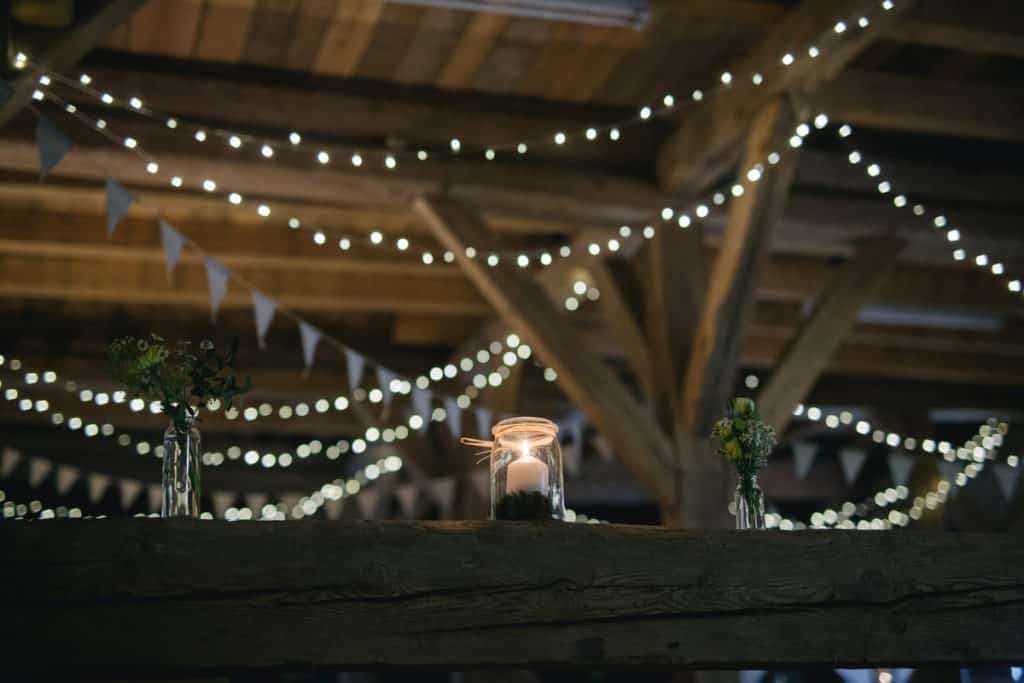 9.) Meadow Ridge Farm — Winterport, ME
Meadow Ridge Farm is a 20-acre farm with stunning views of the Penobscot River.
The rustic barn, grand open spaces, and panoramic views are perfect for weddings!
It can accommodate up to 150 guests comfortably in its versatile space.
Meadow Ridge Farm has three spacious rooms; an amazing dance floor; access to the beautiful fielded property as well as indoor bathrooms. They also have plenty of onsite parking, allowing you to take full advantage of your wedding day without dealing with parking.
Meadow Ridge Farm also provides catering through its on-site caterer, which serves delicious local Maine food. They will delight even those who aren't usually fans of traditional Maine country fare!
Being a Bangor, Maine, wedding photographer, I get the opportunity to shoot weddings at this venue, which never disappoints! See an example at this Meadow Ridge Farm Wedding!
10.) Granite Ridge Estate & Barn — Norway, ME
Granite Ridge Estate & Barn is an elegant luxury estate and wedding barn option for couples looking to get married in Maine.
With the capacity to host up to 200 guests, this location makes it easy to invite everyone you'd like!
The property includes many amenities, including an outdoor ceremony site or indoor reception area with catering, a kitchen, and a dance floor.
They also have beautiful landscaping rivaling other wedding venues. This makes your photos stand out more than they already do at Granite Ridge Estate & Barn.
For more information on how wonderful this Norway, ME barn wedding venue is, check them out!
11.) The Barn at Flanagan Farm — Buxton, ME
Last on this list; we have The Barn at Flanagan Farm.
Situated in the bucolic town of Buxton, Maine, this venue is a hidden gem waiting to be discovered by you and your guests.
With rustic charm inside and out, this barn wedding venue in Maine makes for an unforgettable backdrop. The experience will leave every guest with memories they'll hold onto forever.
This historic barn has been restored with modern-day amenities into the perfect barn wedding venue!
The pictures will speak for themselves, and you will see why this barn is a hidden gem!
Capacity: 150 seated | 300+ tented receptions (see the best Maine tent rentals here)
Conclusion
I hope this blog post has helped you narrow your list of potential wedding venues.
As a Portland, Maine, Wedding Videographer, I get to see everything from rustic to elegant, and each venue is the right option for a bride looking for her dream wedding day at an affordable price point.
Don't forget to book your photographer and videographer early too! They are invaluable in capturing all of those special moments from the big day.
Of course, many other things go into planning a perfect event, but we'll leave it up to you to find out what else you need on our website or by contacting us.
Good luck with finding your ideal location-we can't wait to celebrate with you soon!
XOXO,