We live in a socially driven world where most everyone gets their information from the internet and communicates via social media and weddings completely reflect that (don't forget to follow me on Facebook, Instagram, and Twitter.) 🙂
Trust me when I say your guests will be spending their time snapping pictures of you, your wedding, the other guests, themselves etc. and they will be sharing it to their social media accounts, including Snapchat. Trust me when I say you are going to want to see these pictures, I mean this is your day after all and you aren't going to want to miss anything (even though you will because you will be so busy). So, what better way to get these photos and to see them all in one spot than by creating your very own wedding hashtag?
Check out this hashtag generator by Wedding Wire hashtag generator.
Many of the brides I have worked with have used this and have come up with such amazing and unique hashtags that are catchy and memorable. When planning your wedding, the last thing you want is an idea block. This generator will cut down your thinking time and make creating a hashtag for your wedding to-do list simple and easy to do.
STEPS TO CREATING YOUR #WEDDINGHASHTAG
1) Don't think too hard
If you are someone who tends to think deeply and think too much about how others will perceive things I highly suggest using the generator above. Remember, this is supposed to be simple and fun.
Although, if you are the creative and artsy type this will be right up your alley. Creating your own hashtag can be an adventure on its own. I suggest making a list of hashtags you want and asking what friends can come up with on social media (you will get some amazing responses and it will be fun).
2) Make sure people will use it
The whole point of having a wedding hashtag to begin with is to make sure you don't miss a beat on your special day. Having a wedding hashtag will be memorable for everyone. If they know it exists they will use it, sometimes they just need a little reminder/push in the right direction, but once people start posting it will BLOW up with pictures and memories you will have forever!
Having a wedding hashtag will allow people to take their own pictures and post it with your hashtag to make sure they all go to one location. The best part is they can see pictures that other people took and join in on their own fun. You will go back through these pictures with tears and laughter and be so thankful you didn't miss any of these moments that you would have normally missed on your wedding day if you didn't have a hashtag.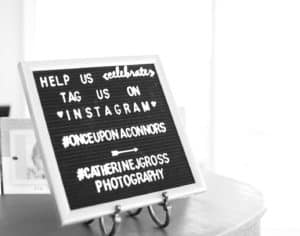 3) Announce it!
This is really important. How will people know to use this if it isn't posted EVERYWHERE and announced? They won't know, so make sure you take the time to make a sign that says your hashtag.
Example: "Share the Love, please tag your photos #XXXXX" and be sure to add all social media icons you want this to go to.
How To Announce It!
Here are some tips from elopement photographer Brittany West out of Colorado.
Put them all over your wedding website
Include it in your save the dates and invitations
Tell your family and friends
Put up signage at your wedding
Mention it during your wedding ceremony or reception
Thank everyone for using it in your thank you cards
Have table cards with your hashtag and icons of your social media
Have the D.J. announce it a couple of times through the night
Have a sign at the bar
With all of these ideas, you are sure to get the word out there about your very own hashtag. Be creative, have fun with it, and enjoy reliving your memories through social media!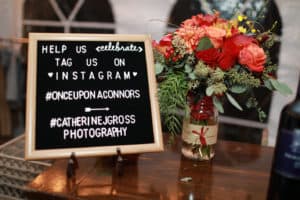 4) Use a slide show as people post it!
This is definitely optional but so awesome! Think about having a slideshow presentation at your reception that will play all the pictures people are taking and posting with your hashtag. This is one way to keep your guests taking pictures through the night, and keep them laughing. It will also allow you to see moments you may have already missed while you are making your way around the tables.
5) Keep it Short & Sweet
The shorter the hashtag is, the easier it will be for people to remember and use. You want people to use it, so make sure it is something they can easily remember and type out quickly. Also, if it is too long it will get cut off on social media sites. So keep it short, simple, and to the point!
6) Check if it's been used before
Before you start using your hashtag, make sure to check if it has been used before. You don't want to be known as the duplicate wedding. No one wants that. So use a site like Hashtagify.me to check and see if your desired hashtag is available.
7) Get Creative
Have fun with it! Be creative and make it your own. This is your wedding day, so make sure your hashtag shows off your personality as a couple. If you are funny, make it funny. If you are serious, make it sentimental. If you want people to use it, make it easy and make it something people will want to use.
8) Don't Get too Personal
You want people to use your hashtag, so don't get too personal with it. If you make it too specific to your relationship no one else will be able to relate to it and therefore, won't use it. For example: Don't use inside jokes that only you two would get. Instead, use something like your wedding date, or a play on words.
9) Use it Before & After the Wedding Day
The wedding day is just one day, but your marriage is forever. So make sure to use your hashtag before and after the big day! Use it in your engagement photos, on save the dates, invitations, thank you cards, and even in your home. Hashtags are a fun way to keep all your memories in one place that you can easily go back and look at whenever you want.
10) Have fun with it!
This is your wedding day, so make sure to have fun with it! This is a once-in-a-lifetime event, so make sure your hashtag shows off your personality as a couple. Be creative, and make it something you will want to look back on and laugh about for years to come.
By following these simple tips, you are sure to create a hashtag that you will love and that your guests will actually use. So have fun with it, be creative, and enjoy reliving your wedding day through social media!
Here are some of my favorite wedding hashtags from 2022!
#4everlovesmith, #everafterJohnson, #KatieandJohn2022, #eternallove2022, #Mr.andMrs.Oliver, #ferrenwed2022, #ForevertrueSteinheart, #happilyeverafter2022, #tieingtheknot2022, #4everwedwesden, #OnceUponaConnors, #TheSmiths2022, #Weddingbells2022, #LoveStory2022, #BestDayEver2022, #SoulMates2022, #Hitched2022, #JustMarried2022, #LoveWins2022, #Newlyweds2022, #Nuptials2022, #SayingIDo2022 <3
I hope you enjoyed reading my post on Wedding Hashtags. Do you have any cool ideas for wedding hashtags? I would love to hear from you down below!
If you are looking for a Maine wedding photographer, be sure to consider me! I would love to capture your big day and help you remember it forever. Thanks for reading!