Hey there! Knee-deep in your wedding to-do list and quest for the perfect wedding invitation? Say hello to Basic Invite, our fabulous online stationery partner that specializes in crafting bespoke wedding cards online.
There's something so magical about planning a wedding, especially when it comes to sharing your joy with loved ones. And what better way to shout out your love from the rooftops than with a stunning, personalized wedding invitation? Basic Invite takes your experience up a notch, making the creation process not just super simple but also a whole lot of fun!
Colors Galore!
What makes Basic Invite a gem in the world of online stationery? It's their incredible array of color options! Once you've picked a design that steals your heart, you can play around with the colors for each element on the card using their user-friendly online tool. With a palette of over 180 shades, you can ensure your invitation is a perfect match for your wedding theme. This level of personalization guarantees that your "save the dates" are as unique and charming as your love tale.
See Before You Leap
Want to get a feel of how your invitation will turn out before you place the final order? Basic Invite's got your back! They're one of the rare websites that let you order a printed sample of your actual invite. Now, you can touch and see the quality of the paper, check the print, and make sure the card is just right.
Envelopes with Pizzazz
But the customization magic doesn't stop at the card. Basic Invite offers over 40 different envelope colors to pick from. So whether you want your envelope to match your invite or create a pop of contrast, you're the boss! Plus, all envelopes come with a peel-and-seal closure for easy and secure mailing.
No More Address Hunting
Thanks to Basic Invite's nifty address-capturing service, collecting addresses from friends and family is a breeze. Just share a link on social media to request addresses, which are then stored in your account and can be selected during the design process. The cherry on top? Basic Invite offers free recipient address printing on all card orders.
Shimmer and Shine with Foil Cards
For an extra dash of elegance, check out Basic Invite's foil cards. Available in gold, silver, marble, and rose gold, you can choose flat or raised foil on all of their foil designs.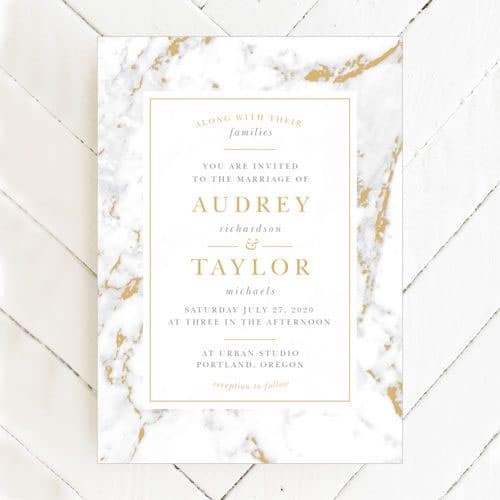 And here's the best part – Basic Invite is currently offering a sweet 15% discount on all orders with the coupon code 15FF51. So why wait? Start designing your dream wedding invitation today, and let Basic Invite add that extra sparkle to your special day.
Check Out Basic Invite on Social Media: @basicinvite
Before I sign off…
As you're weaving together your dream wedding day, don't forget about the importance of capturing those magical moments.
While Basic Invite crafts stunning invitations, I'm here to freeze your timeless memories. As an experienced wedding photographer based in Maine, I'm devoted to capturing the joy, love, and unique beauty of your special day. Don't leave it to the last minute. Secure your date now, and let's create some beautiful memories together. Click here to book me as your wedding photographer. Let's make your wedding story a treasure to remember.